What is Hide Price? 
As anyone knows in eCommerce, every product has an individual page and the price will display on both sides of the product page and collection page. It also appears in the Search Tab, Recently Viewed Product (etc) if available. 
The name speaks for itself, Hide Price is the action of making a product's price disappear and preventing customers from viewing this information when they are shopping in your online store. Instead of getting the product price in your store, customers need to contact the seller for a quotation via email, text, or phone call.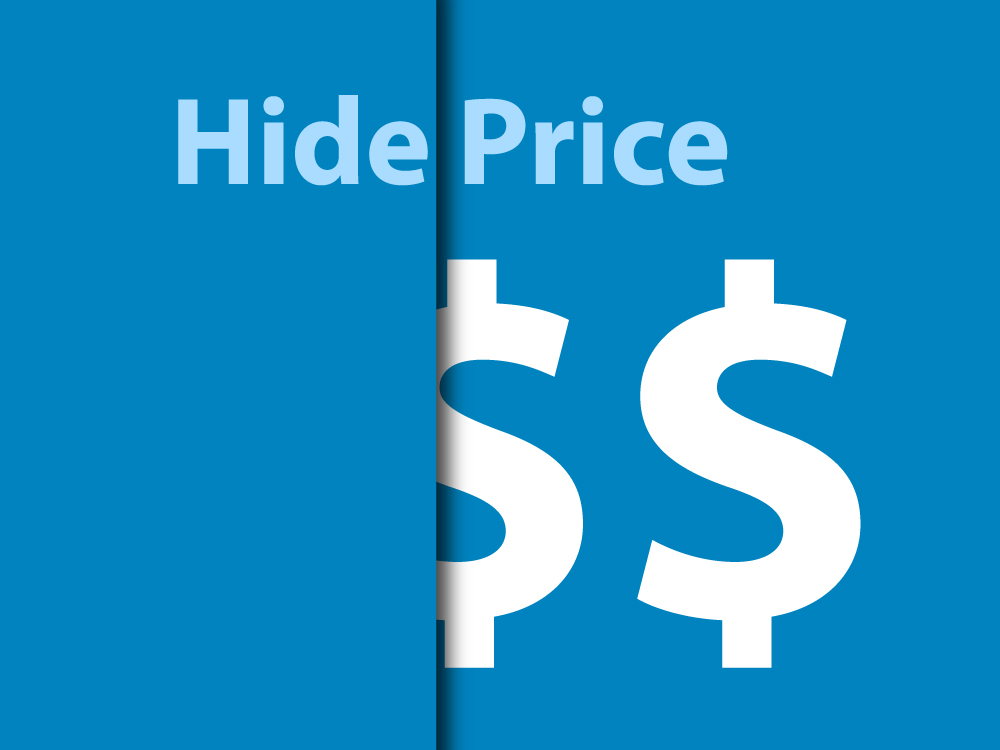 Is it important to use Hide Price for your business? 
Hide Price is currently still a debatable topic for businesses. Whether an online store should use this Hide Price strategy or not since if your potential customer can't find the price and contact you might end up wasting your time and increasing your customer acquisition costs. 
So the question is: Is Hiding product Prices totally bad for your business? 
"NO" for the answer. There is a Psychology Behind The Hiding Prices Online you should know. 
To understand the true benefits of Hiding Price can bring to your business. Let's take a look at the next section:
3 Benefits of Hiding Price for B2B & B2C Business
Raising the Curiosity of Potential Customers. 
In the list of your products displayed with the public price, there are some products with hidden prices that can increase customers' curiosity. They will contact you to ask for the price to buy more if possible while buying another product activated price. 
No need to hide all product prices or hide only the best seller's product. They might be the range of products needed to be sold or have customization options. In some cases, it works for some products that are very large and expensive and can't simply be bought online ( for example, a $20,000 commercial pizza oven). 
Avoid unfair competition from Rivals.
There are plenty more fish in the sea, Showing Prices in your store creates an opportunity for other companies to steal your potential customers and compete directly with the same product. Especially for something which is economically volatile. 
For example, your whole team makes an effort to do price research and ends up with a fantastic price strategy for wholesale: $10 per item if customers buy with a quantity of more than 1000-2000, $5 per item for more than 2000. Everything seems going well with your business until another store sees your attractive plan and decides to jump in. They even afford lower prices than yours and have a competitive policy to attract customers. Noticing that the store has a better deal, your customer decides to make a change and then you suffer a lot of loss. 
That's a pity for our whole team effort. So should you reconsider using Hide Price or not? 
Building Better Engagement for your Business.

 
There are a lot of ways to collect customers' information for Marketing. And Hide Price is a great way to build and increase customer relationships you should know. 
For example, a customer stops by your website and takes a free tour of the product. If the product fulfills their expectations and needs, the next big question which comes through their mind is "Can I afford this product?" and then they will take a look at the price right away. If their wallet does not allow it, they will stop buying the product and leave without any information.
What's a waste if you lose communication with potential customers in the first place of sale? 
This time, you should know how to motivate this type of customer to directly and actively contact you. Not only get their contact information for the next sale campaign but this time you can also increase the customer's desire of owning this product or put into their consideration purchases by using Hide Price. 
There are some exceptions to some cases and depending on your business. However, if you're selling such products publishing the prices does not make sense, Hiding the price will primarily benefit the working of your business. 
Hiding the price with the visitor (retailer) but showing the price to current customers having an account (wholesaler) is more than a smart idea. 
If you are currently using Shopify to build your online store, a plug-in like Request a Quote - Hide Prices is a stand-out choice to go and help you with exactly what you are looking for: 
Hide Prices for which customer type you want to set up by using the Customer Rule option. (for example, not logged-in customers)

Hide Prices for all categories. 

Enable the Quote Button and disable the Add to Cart Button, and Hide Price as well. 

Showing the Quote Pop-Up Form for customers to fill in. 

Create Draft Orders Automatically sent along with the quotation to your customer. 
To have an easy path to grow your business more and more, Hide Prices with our plug-in is easier than ever to work perfectly with what you are expecting. No more code - permanently hide product prices!
Just check it out to have 14 free trials for outstanding experiences with Request a Quote ‑ Hide Prices