In this tutorial we'll show you, how to install a Jarvis framework template in your Joomla installation. 
REQUIREMENTS
PHP 5.3+
PHP Multibyte String support
PHP JSON support
PHP DOM XML support
DOWNLOAD TEMPLATE
The first thing you need to download the new template that you want to use for your site. We would recommend you check all new Joomla! template that built from Jarvis Framework, you can use tag button to find the right template: http://www.omegatheme.com/joomla/templates/tag/10-joomla-3-templates and download it!
If your site has content already then you just need install template and modules only. Before installation, check all requirements above to make sure your site is ready. After downloaded Joomla! template, you should extract it into an folder, it has images folder, pkg_template-name.zip, quickstart_template-name.zip, Template-name_Psd.zip files. 
Once you have extracted files as above, login to your administrator area of your site and then upload the template zip file (pkg_template-name.zip) through the Extension Mangager (Extensions -> Extension Manager). In this tutorial, i'm using OT Smartsolution template, so i select pkg_smartsolutions.zip file.
Click Choose file or Browse and select pkg_smartsolutions.zip and click Upload & Install button.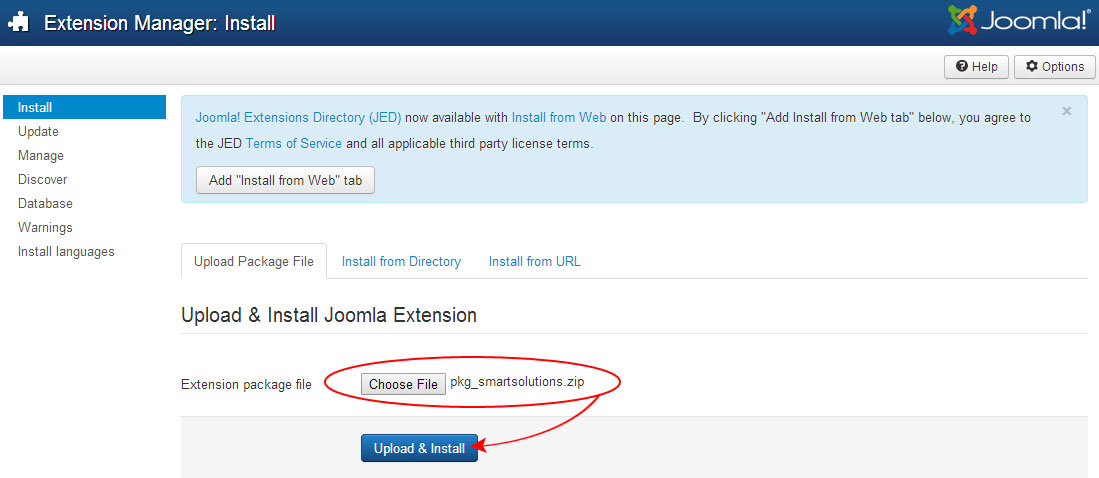 ACTIVATE
Once the template is installed successful in your Joomla! site, you need make it as default template for you website so you will have new design. To active the new template go to Extensions -> Template Manager, choose installed template and click on Make Default

By clicking on the templates name, you'll be able to change all template specific settings.