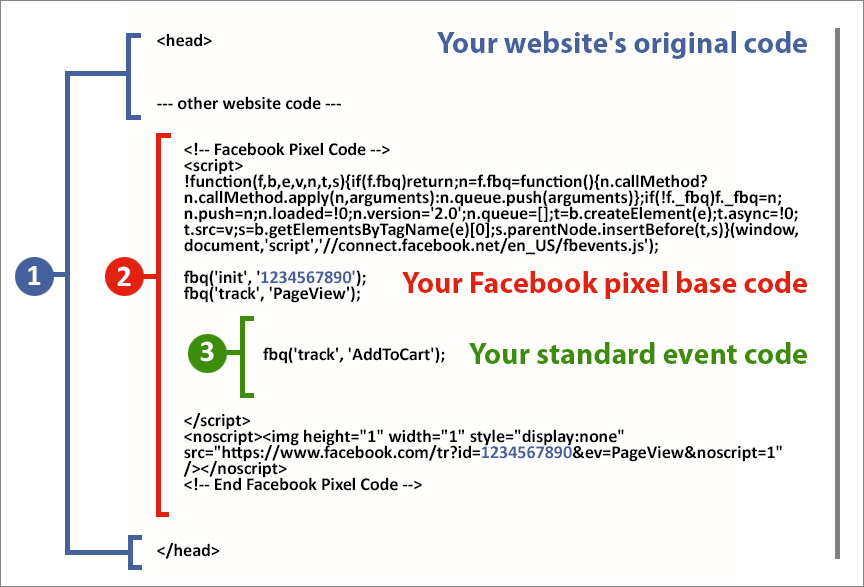 Simply, the Facebook pixel can track actions on your website by logging each action (click/view product/…) as an "event".  These actions can be a result of Facebook Ads (paid - from marketing campaign) or organic reach (unpaid - from sharing or interaction to the website links).
There are two categories for events: standard and custom.
Standard event
Standard events enable you to track specific events, optimize for conversions and build audiences.
Standard events include:
View content: The pixel will trigger after customers go into your store to see page content or content of the products.

Search: When customer users search tools on your website to find the products

Add to cart: The addition of an item to a shopping cart or basket. For example, clicking an Add to Cart button on a website.

Add to wishlist: The addition of items to a wishlist. For example, clicking an Add to Wishlist button on a website.

Initiate checkout: The start of a checkout process. For example, clicking a Checkout button.

Add payment info: The addition of customer payment information during a checkout process. For example, a person clicks on a button to save their billing information.

Make purchase: The completion of a purchase is usually signified by receiving an order or purchase confirmation, or a transaction receipt. For example, landing on a Thank You or confirmation page

Lead or complete registration: A submission of information by a customer with the understanding that they may be contacted at a later date by your business. For example, submitting a form or signing up for a trial.
Custom events or custom conversion


Custom events are actions that fall outside those covered by standard events. You can create and use them when you want to track something "non-standard".




Custom conversions can also be used if you can't add standard events to your website.


To create a custom conversion: ( Don't forget to verify your domain and pixel)
Go to your custom conversions on Event manager


Click Create Custom Conversion.


Set up a name and description for your custom conversion.



Then choose Data source and Conversion Event

Add the rule for custom event




You can add a URL or part of the URL representing your custom conversion (ex: URL contains /thankyou.php for a thank-you page after purchase). This would be equivalent to using the Make purchase standard event. If you're using URL Equals, make sure you include the domain (for example

www.omegatheme.com/shirtpage

) too. Don't need to include "HTTP" or "https".

Add a conversion value if applicable (ex: If you're selling shirts worth $50, put $50 into the Conversion value field). Including a conversion value allows you to view your return on ad spend in your report.



Click Create > Done
So what is different?
In terms of setup, the custom event is easier and more quickly as compared with the standard one. You don't need to touch any code lines.


Meanwhile, standard events are actions Facebook recognizes and supports across ad products. By adding the pixel code to your website, you can use standard events to track your ads.
Tracked conversions can get data for your Facebook Ads Manager and the Facebook Analytics dashboard, where they can be used to analyze your conversion funnel's effectiveness and calculate your return on ads investment (ROAI).
Moreover, about the effectiveness, the standard one can help you optimize ad campaigns easier. You can also use custom conversions to define custom audiences for ad optimization but not for dynamic ad campaigns. Once you have defined custom audiences, we can use them to identify other Facebook users who are likely to convert and target them with your ads by using "Create lookalike audience".

Special offers


🎉 Our beloved partner, UpPromote, is bringing you an extraordinary BFCM 2023 Campaign where you can get all TOP Shopify's Services at throwaway prices you haven't known before 😉
💥Explore huge offers of UP TO 50% OFF on your 20+ favorite Shopify apps, including us - Two Owls, UpPromote, Omnisend Email Marketing & SMS, Pagefly, DSers‑AliExpress Dropshipping, CJDropshipping and so many more. At UpPromote's BFCM Campaign, you can find a range of the most significant sales and best deals in one place, so you can browse your favorites and see what's on offer!