In this blog, we share how often to use, when you should markdown your products and which customers segments to offer, without hurting your bottom line. The offers or discounts you choose will appeal to different types of consumers you target, your business goals and market positioning. If you are a high-end company like Tommy Hilfiger, you could refer to their regular offerings for customer loyalty programs. More frequent discounts and monthly sales if you have higher profit margins, or you can combine a bit of both.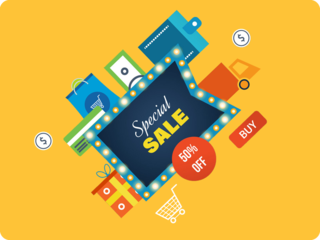 1. Percentage discounts
One of the best ways to incentivize your clients, clearing inventory stocks and getting rid of products that expire soon (food or makeup) is to knock a percentage off the original price like 10% or 20% off (depends on you). You can plan your markdowns ahead of time for extra expiring stocks by creating a discount and choosing dates for your offers and it'll activate automatically. Never worried about products that almost out of date or worse, out-styled. 
2. Discount codes or coupons 
Holidays or special occasions (Halloween, Black Friday/Boxing Day or Christmas) coming near? What intrigues people more than treating them with holiday codes? We all know that Xmas is a time and money-consuming season of the year, so people tend to look out for the best deals. Using customized discount codes like BlackFriday2020 or Xmas20 is an effective way to help you compete with larger stores or brands. Just need to set a min/max amount and expiry date for your codes. 
3. Cross-out prices
Telling customers exactly how much they're saving on a bargain is called a cross-out or strikethrough price. It demonstrates the full price of an item with a line through it, next to the new sale price in order for customers to compare. In a psychological principle, this type of price presentation is based on the anchoring effect, indicating that people need a reference value for evaluating an offer. Hence, we also suggest you should give a reason when adding a strikethrough price in your product description ("woman shoes 20% to make way for man shoes").    
 With Quantity Price Breaks, you can easily apply all of the above strategies to your Shopify store. Learn more about the app