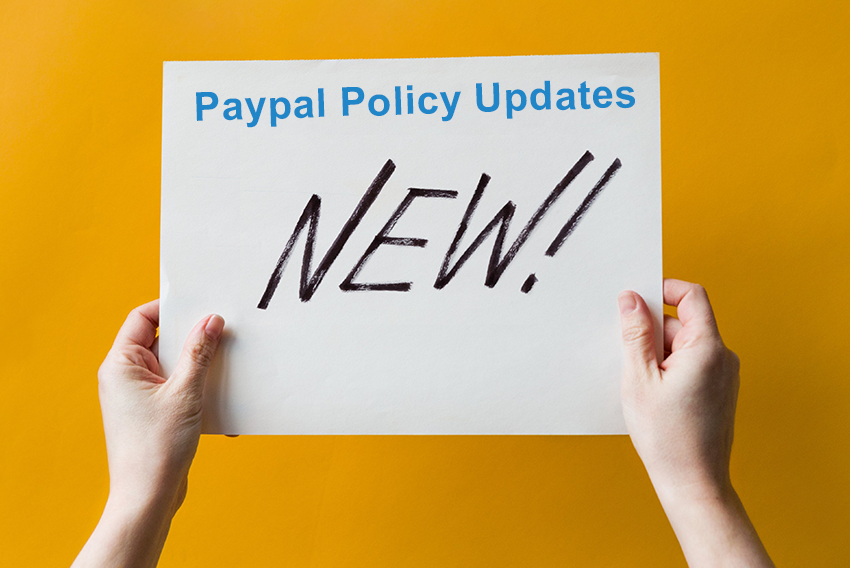 What Paypal policy updates can affect sellers?
1. Paypal expands its Seller Protection Program to include certain intangible products which are delivered and used in an electronic format embracing digital goods, digital music, digital books, digital games, travel tickets, and software downloads, subject to meet Goods Additional Requirements which: 
Require integration

Provide proof of shipments when you delivered the items
According to Updated User Agreement: 
"For intangible or digital goods, proof of shipment or delivery means compelling evidence to show the item was delivered or the purchase order was fulfilled. Compelling evidence could include a system of record showing the date the item was sent and that it was either:
- Electronically sent to the recipient, including the recipient's address (email, IP, etc.), where
applicable; or
- Received or accessed by the recipient" 
Provide signature confirmation for the transaction of payment above USD 750 

Pay standard transaction fee per sale for digital goods to be eligible for Seller Protection 
Paypal is also required to mark the payment "eligible" or "partially eligible" for  Unauthorized Transaction claims and "eligible" for Item Not Received claims to be eligible for Seller Protection.
2. Paypal requires buyers to contact sellers before filling any disputes on Resolution Center 
3. If sellers lose the claim for Significantly Not as Described products, sellers may not get the items back except in the case that sellers are required to accept the returned product and pay for the shipping fees.                                                      
How Paypal policy updates affect and sellers proper actions
1. It is good news for sellers to know that now intangible goods can be protected by Paypal Seller Protection, especially for digital sellers. As soon as you provide enough proof of shipments, the fraudsters cannot easily open a dispute, which means minimizing the risks of your business operation. The tracking of digital goods is different from tangible ones, some of the apps now support you to send the download link as the tracking information provided for Paypal (ex. Synctrack - Add Tracking Auto). 
This new update allows low-value digital goods of sellers to be traded safely on Paypal, however, for larger transactions (values more than USD 750), it is tricky to get the signature confirmation. Considering using other famous marketplace is a wiser decision. (You can read more in our Synctrack Blog)
2. Retailers now need to work to improve their customer service operation to solve problems with the customers. Paypal has opened a chance for sellers by requiring customers to have advanced contact with sellers before opening a dispute. Therefore, you can be able to minimize the rate of disputes and get a better account performance towards Paypal. 
Explore how to solve disputes with customers 
3. Possibility of not returning Significantly Not as Described products is like a response from Paypal to scam sellers, and also bad news for sellers because there could be various reasons for this issue happening, some are not on purpose. Whatever it is, sellers now should take attention to the ways you advertise, describe and sell your products to your customers. 
Tips to avoid Significantly Not As Described problem
If you are selling online through Paypal, it is necessary to update all changes from Paypal to help you keep up on your business and earn money.