What's the fuss about TikTok Instant Page?
For a tech columnist, it's TikTok's effort to rise against other ad platform giants.
For a TikTok user, it means they get an instant in-app landing page trying to tell them into going down the funnel, without having to wait (well a split of a second).
For a TikTok advertiser, especially those ecom merchants who are just testing the water, it would probably be well worth a must-try spot on top of their to-do list.
TikTok Instant Page, why should I care?
When it comes to smoothly push your prospects down from the in-feed ad's CTA all the way to complete payment on your store, it's actually your ability to pull them down that counts. By that I mean:
Grab the attention now, it's fragile: From the "Shop now" click to the actual landing page (all too often a mere Product Page), you'll have to stop folks from falling asleep halfway. Instant page is not an external page, hence loads 11x faster which attract more people into your funnel.
In a platform where you're just 1 swipe away from the rabbit hole full of tantalizing content, people losing focus & patience faster is understandable
Don't be intrusive & confusing: It's hard to squeeze all you want to tell about your brand/product/story into a single 15-sec video ad. And we all know that feeling when you got best-in-the-market CTR of around 5%, but neglectable, mind-boggling add-to-cart counts. That's a huge red flag that your Product Page is not optimized, leaving shoppers utterly confused or indifferent.
It's not their fault. Nor it's their responsibility to ask you about all the cool things about the promoted product hidden away in the sales rep's pitch.
With this Instant Page as a step in between, the faith of the sales pitch is in your hands. Add more content to make the product shine, the brand speaks (with adjustable video, carousels, images & text). Make it irresistible to hit another CTA.
It's like having your sales rep answering all the concerns of that customer so they like it so much that they ask for a look into the catalog. It's better than forcing that catalog into their hand right upfront.
In short, you're entering the world of the funnel. Create a seamless purchase experience for your shoppers, one CTA at a time.
Some things to keep in mind before trying TikTok Instant Page
It's supposed to retain more people who would have dropped halfway due to the slow loading time, and have them think twice (in a better vibe) about the product they're about to add to cart.
Only if you do it right. It's kinda a risky business since if you distaste them on this instant page, throwing away all the potential direct traffic to your site altogether.
So, keep an eye on the wow & persuasive factor when you build your instant page. Got it right, your top-of-funnel (TOFU) traffic will be wide opened.
Can I optimize my TikTok Ads campaigns for the button click event on the Instant page?
Indeed you can. In the Ad Group Level, choose TikTok Instant Page instead of the external website (your store's). With this selected, TikTok will generate a pixel to record the button click event on the instant page.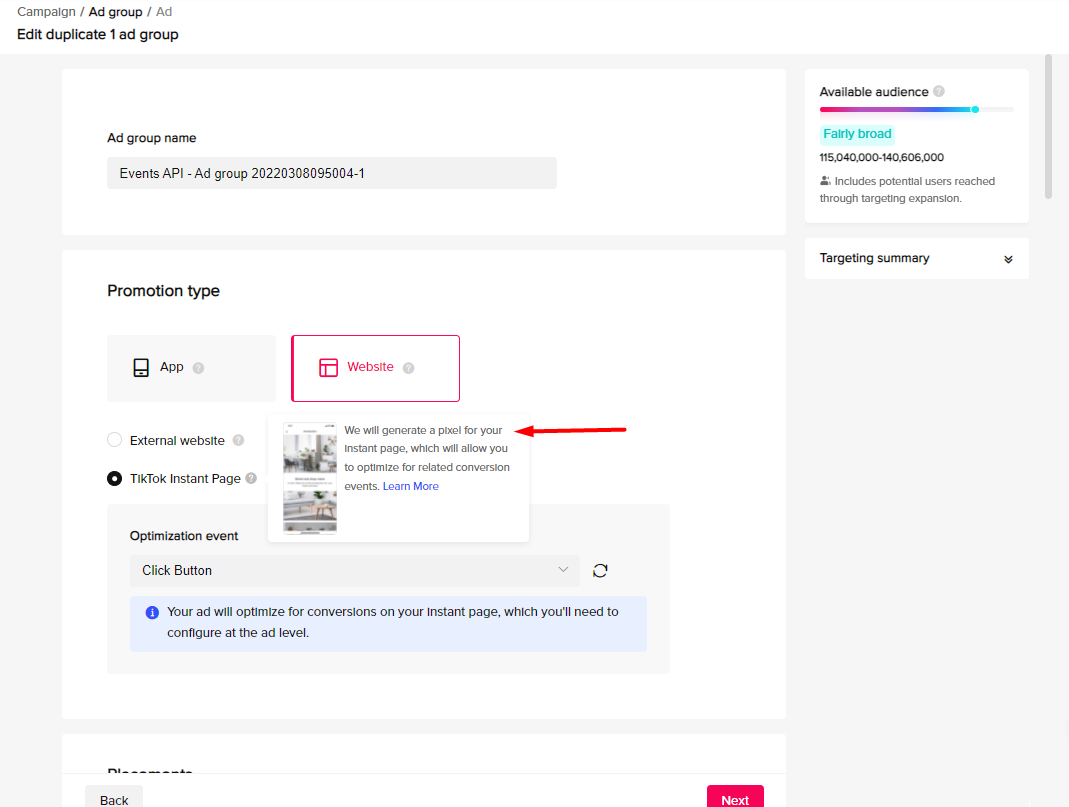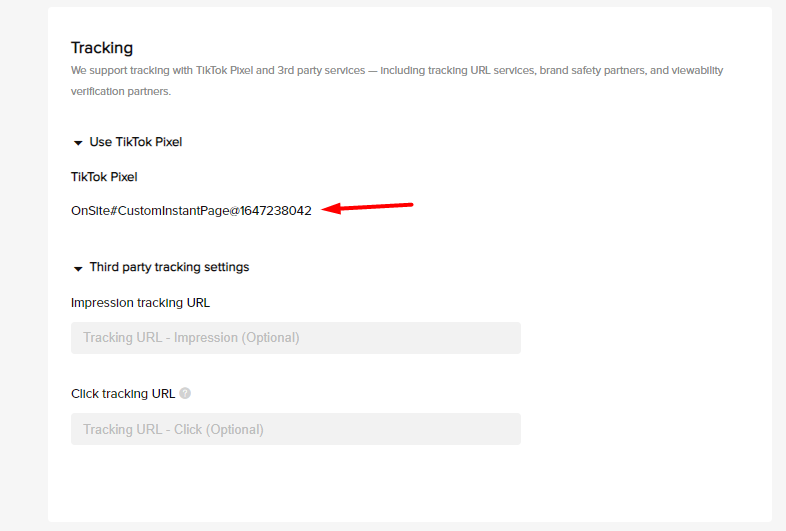 The only thing here is that you're not allowed to create a custom audience out of those who have clicked the instant page's button, whereas with a usual pixel you can.
Do I still need to install a TikTok Pixel to my site if I've already had an instant page pixel?
It's even more necessary. For one, the instant page pixel only records 1 button click event. For another, when you want to optimize towards the people who're likely to add to the cart, you have to give TikTok the add-to-cart data! That means another pixel has to be set up on your Product Page.
So here's a strategy you might want to try:
In a conversion campaign, set up an ad group that optimizes for the button click from the instant page. If your instant page CTR is not good enough, make tweaks until it's optimized. The goal here is to get more people to view your PDP.

Once you got some decent traffic, create a custom audience of people who have added to cart but haven't checkout.
Within that same campaign, set up another ad group to retarget those cart abandoners with a sweeter offer.
If those same people added another product to the cart within that session but haven't bought anything, you might want to know what that other product is to create, say, a bundle offer? If you've lumped all your site traffic into 1 pixel, there's no way to find out that with a custom audience yet.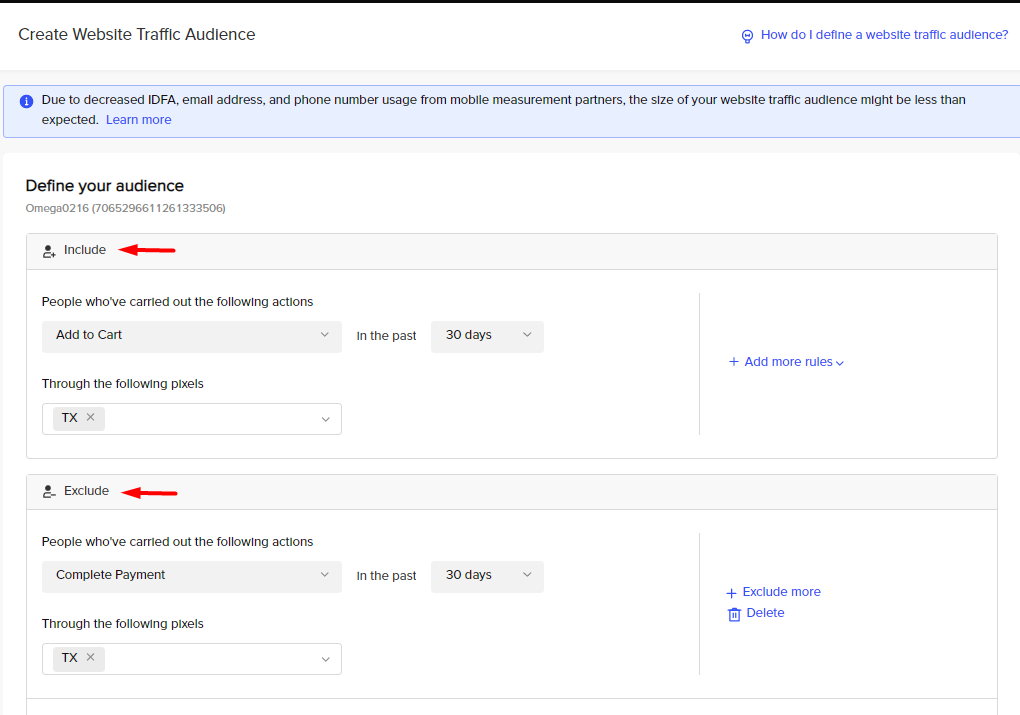 You can't filter events together with the product being interacted. The workaround is to add one pixel per product. Check out this Shopify app that allows installing multiple TikTok pixels & server-side Events API to avoid data loss.
Keep experimenting!