Shopify Flow: in a nutshell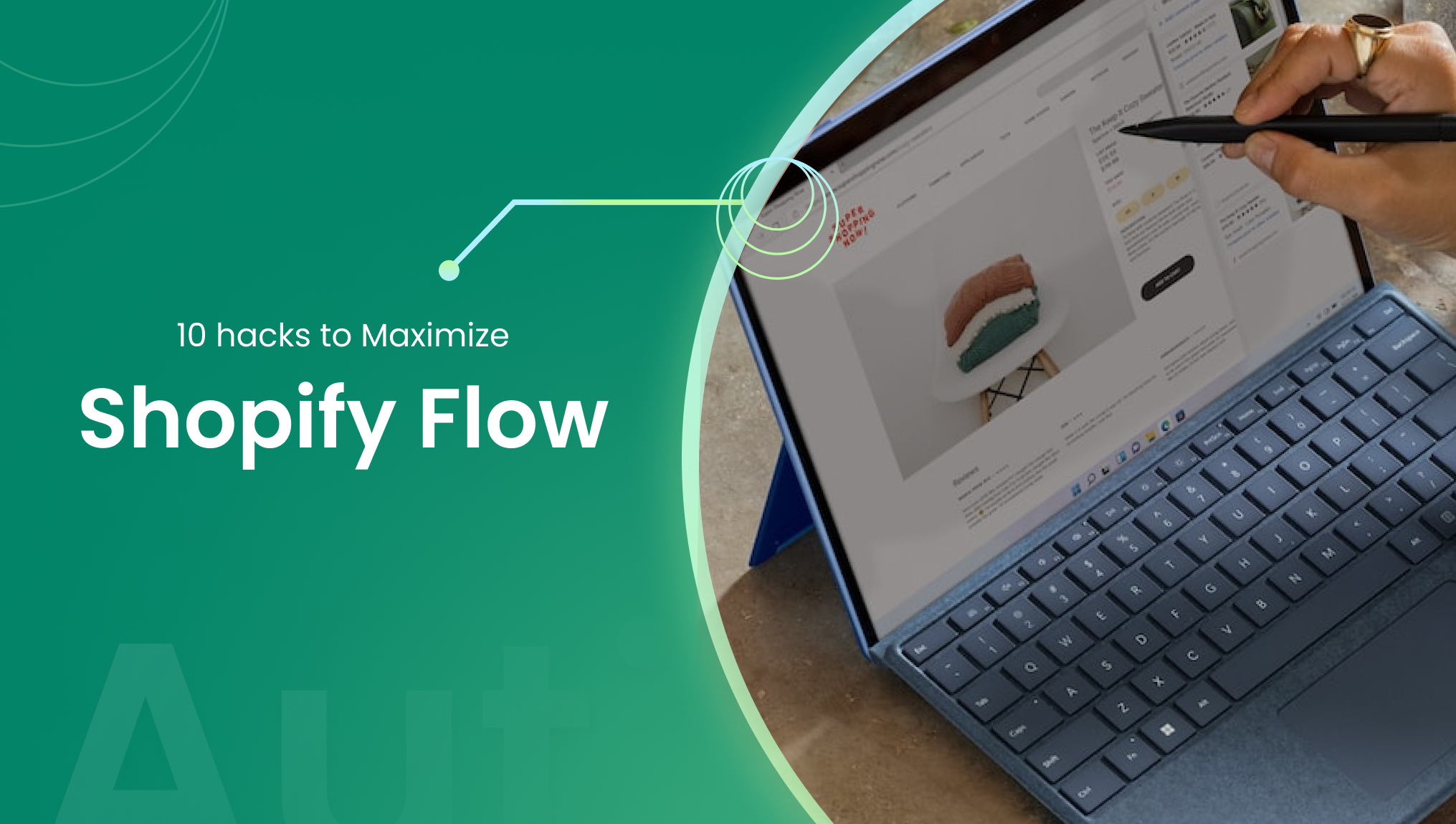 Let's face it: running an e-commerce store is a never-ending game of whack-a-mole. Just when you think you've got one problem solved, another pops up. It can often feel like you're juggling a hundred tasks at once. But fear not, dear store owner, for Shopify Flow is here to save the day.
It's like having a personal assistant for your store. 
Shopify Flow is a powerful automation tool that allows you to create custom workflows to automate your business processes. Automate repetitive tasks, streamline your workflows, and free up your time to focus on growing your business. 
It's easy to work like "If X happens, then do Y". Built by Shopify and their deep understanding of what businesses need, Shopify Flow app helps automate day-to-day tasks to build unique checkout experiences.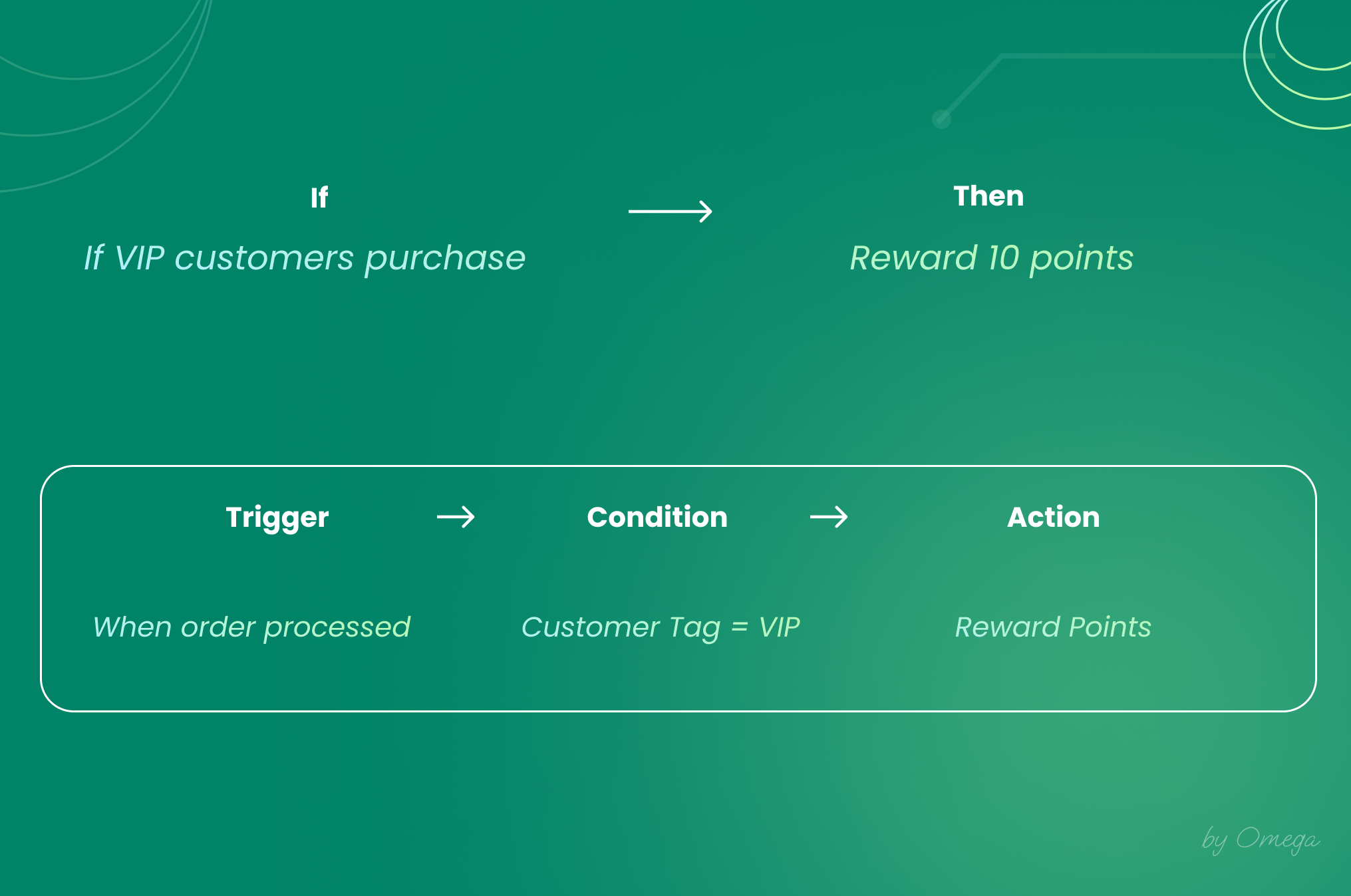 These are some key features of Shopify Flow include:
Any triggers and actions: You can create custom triggers and actions to automate any task in your business. For example, you could create a workflow that sends an email to customers who haven't purchased in a while to encourage them to come back and make a purchase.
Seamless integration with other apps: Shopify Flow integrates seamlessly with other apps, such as your email marketing platform, to further streamline your workflows.
Detailed reporting: Shopify Flow provides detailed reports on your workflows, so you can see how they're performing and make changes if necessary.
10 Proven Shopify Flow examples 
Below, we'll show you 10 proven Shopify Flow examples that can help streamline your eCommerce operations. These examples will help you reduce manual tasks and increase efficiency, ultimately leading to more sales and happier customers. So, let's dive in and see how Shopify Flow can transform your eCommerce store!
Loyalty Program Automation
1. Fraud Prevention
Fraudsters, beware! With Shopify Flow, we've got your number. And by 'number,' we mean we've got a way to catch you and put an end to your scam orders. 
Fraud prevention features are easy to use and highly customizable. You can set up rules based on a wide range of parameters, including customer location, purchase history, and order value. This means you can tailor your fraud prevention strategy to the unique needs of your store and reduce false positives.
Also with AutoTags, you can add tag "FRAUD" to suspicious customers (any condition you want to filter).
2. Inventory management
Managing inventory can be a daunting task for e-commerce businesses, especially as they grow and expand their product offerings. Keeping track of what's in stock, what's running low, and what needs to be replenished is a time-consuming and often frustrating process. 
3. Customer Segmentation
In the world of eCommerce, understanding your customers is key to growing your business. By segmenting your customers, you can personalize your marketing efforts, drive repeat business, and increase revenue. 
TIPS: Some tasks require a bit more fine-tuning and customization of TAG. That's where AutoTags app comes in for the best duo with Shopify Flow.
4. Email Marketing Campaign  
In the world of Ecommerce, email marketing is vital, like the air. Email marketing has an average ROI of $42 for every $1 spent, making it one of the most effective marketing channels available. 
With so many different tools and platforms to manage, creating and executing a successful email campaign can feel overwhelming. Now you can do it all within the Shopify ecosystem. 
Sending abandoned cart emails, welcoming new customers, or rewarding loyal shoppers, you can save time and focus on what really matters: growing your business.
5. Loyalty Program Automation
Studies show that businesses with loyalty programs grow their revenue 2.5 times faster than those without. And loyal customers are worth up to 10 times as much as their first purchase. So, it's clear that implementing a loyalty program can have a huge impact on your bottom line. 
With Shopify Flow, you can automate your loyalty program to make it even more effective. For example, you can use Flow to automatically enroll customers in your loyalty program when they make their first purchase. 
TIPS: You can add tags to customers to segment VIP group who buy often every month or large orders. 
Some popular use cases for loyalty program automation with Shopify Flow include:
Automatically enrolling new customers in your loyalty program
Rewarding customers for repeat purchases or referrals
Sending personalized offers based on customer behavior
Offering discounts to customers who haven't made a purchase in a while
Re-engaging lapsed customers with special offers
6. Customer Services
In today's fast-paced and highly competitive e-commerce market, delivering exceptional customer service is no longer an option – it's a must.
72% of customers expect a response to their inquiry within 24 hours, and 52% expect a response within just one hour. Failing to meet these expectations can result in frustrated customers and lost sales.
Shopify Flow can help you automate tasks like sending follow-up emails to customers who have recently made a purchase or providing personalized recommendations based on a customer's purchase history.
Use Case Address Validation:
Trigger - New order created.
Condition - Billing or shipping address is incomplete or invalid.
Action - Send an email to the customer asking them to update their address information to avoid shipping delays.
7. Cross-selling and Upselling
Wanna increase the revenue of your online store without spending too much on advertising? 
Cross-selling and upselling are proven strategies to increase sales and average order value, but implementing them manually can be time-consuming and complicated. Let's take a closer look at some use cases for cross-selling and upselling with Shopify Flow.
a. Use Case 1: Cross-sell related products
Trigger: Customer purchases a product
Condition: The product belongs to a specific collection
Action: Send a personalized email with recommended related products and offer a discount for the purchase of multiple items.
b. Use Case 2: Upsell to higher-priced products
Trigger: Customer adds a product to the cart
Condition: The product belongs to a specific category or has a specific tag
Action: Display a pop-up on the website suggesting a higher-priced product that is related to the product in the cart, and offer a discount for the purchase of both items.
c. Use Case 3: Bundle products
Trigger: Customer purchases a specific product
Condition: The product has a specific tag
Action: Send a personalized email offering a bundle deal with related products and a discount for the purchase of the bundle.
8. Affiliate Marketing
In today's digital age, social media influencers have taken the marketing world by storm. These influencers have a massive following, and brands are tapping into their audience to promote their products. This is where affiliate marketing comes in.
By using Shopify Flow for affiliate marketing, you can expand your reach, tap into new audiences, and ultimately drive more sales. 
Automated Commission Payments: Use Shopify Flow to automatically track and pay affiliate commissions based on referral traffic and sales. This saves time and ensures accurate payments.
Custom Affiliate Program: Create a custom affiliate program by using Shopify Flow to create unique discount codes for affiliates, track their referrals, and automate commission payments.
9. Order Routing
Imagine a scenario where you have customers in different regions, and you want to ensure that their orders are fulfilled in a timely manner. With Shopify Flow, you can create rules to route orders to the appropriate fulfillment center based on the customer's location. This can help you reduce shipping times and improve customer satisfaction.
Moreover, you can also use Shopify Flow to automate other order management tasks such as updating order tags, sending notifications, and canceling orders.
NEW on Shopify: And you can find out much more way to effectively manage your orders and inventory with smart order Shopify.
10. Social Media Integration
To use Shopify Flow to automatically post on social media platforms like Instagram or Facebook when new products are added to your store, you can set up a trigger in Shopify Flow that is activated when a new product is added to your store. The trigger can be set up to run a workflow that will automatically post the new product on your social media accounts. Here are the general steps:
In Shopify, go to the Shopify Flow app and create a new workflow.
Set up a trigger for when a new product is added to your store.
Add an action to post the new product on your social media accounts.
Customize the post by adding a product image and description.
Test the workflow to make sure it is working properly.
Note that to post on social media platforms like Instagram, you will need to have a social media management tool or app that integrates with Shopify Flow, such as Buffer. You will also need to have an Instagram business account and connect it to your social media management tool.