In the beginning, there are 2 types of Paypal account to choose from when you sign up for an account on Paypal: Personal account, Business account. However, for businessmen, there is another account type named Paypal Payments Pro.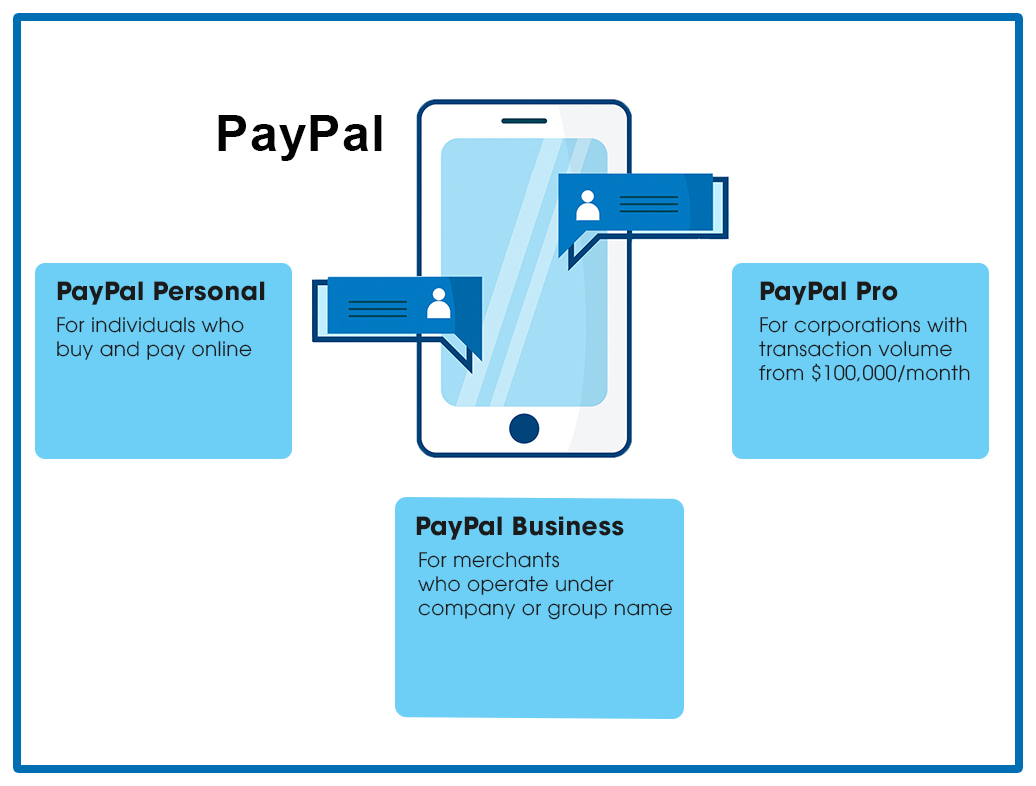 1. Personal account
If your main purpose is just paying money online or sending and requesting money from your friends and families, a Paypal personal account is appropriate for you. In addition, a Personal account also can receive money if you sell goods and services online with a low fee. 
However, when you use a Personal account to sell, your name will be shown on each transaction which affects your privacy. In addition, selling by using a Personal account will limit the form of payments. A PayPal personal account will be an ideal option for people who sell their goods and services occasionally.
How to set up a Paypal personal account 
2. Business account 
If your purpose is to sell products & services online, a Paypal business account is designed for you to receive payment from your customers. A Business account includes all the benefits of a Personal account and more: 
If your customers do not have a Paypal account, it also allows you to accept payments by credit card 
You can account under your business name which helps protect your privacy 
It allows up to 200 employees to access your business account to use its features 
It allows you to print labels, track payments, and get live customer support
How to set up a Paypal business account 
3. Paypal Payment Pro (Paypal Pro)
Basically, Paypal Pro is a process of underwriting a Business account, so you can get all the benefits of a Business account and have the ability to receive payments through phone, fax, and mail. Paypal pro is the most suitable for big businesses, which commonly have a big number of transactions every day and needs the features of Paypal pro to improve the cash flows. 
How to get started with Paypal Pro 
4. Comparison chart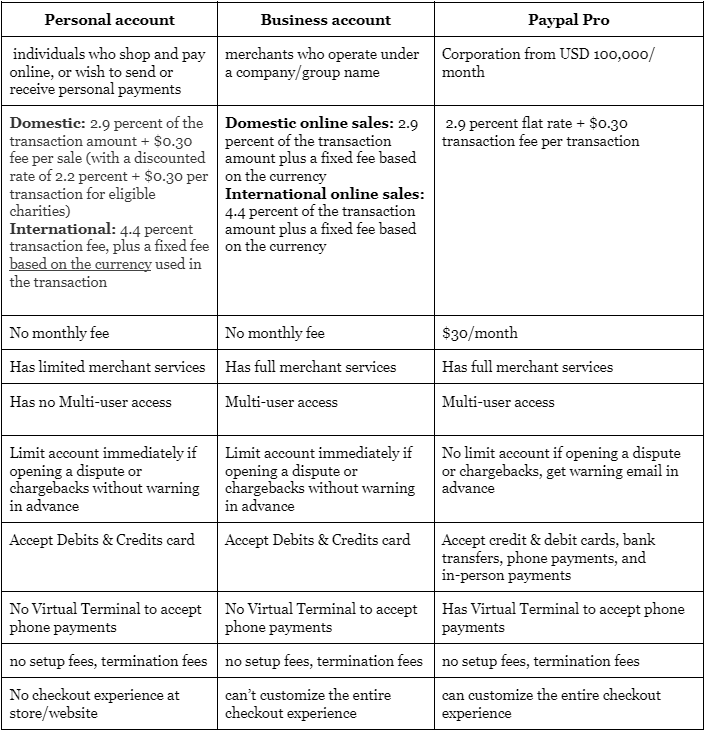 More and more information about PayPal, check it now!
5. Tips for using Paypal
Verify your Paypal account, verifying by Visa card will help your Paypal account work stably and have no limit when making payment 
After receiving money from other accounts, do not send or withdraw money immediately to avoid suspicion from Paypal. You should wait for 30 minutes minimum to send money and withdraw after at least 1 day. If you have a large amount of money, it is strongly recommended to transfer it back to your bank account
Do not abuse to send money without fee through Paypal, it causes Paypal to consider your account is abusing and put your account under tax avoidance case. 
Keep your account with clear transaction history: Following are some of the cases Paypal limit your account, check and avoid this: 


Change IP address when you log in continuously 
Do log in & log out activity many times
Happen a sudden change in your account (ex: receive or withdraw a big amount of money in a short time)
Send or receive money from a suspicious account 
Add or remove your bank card frequently, change or remove email, password, or security questions many times
Even though a person can own 2 accounts (1 personal & 1 business), choosing an appropriate account type can benefit your personal use or your business. In addition, if you are using a personal account, you can upgrade to a business account, and from a business account to a pro account but you cannot do the vice-versa way.