If you're looking for a solution to encourage purchases on your Shopify stores without having to join third parties and pay them commissions, this article is what you need.
This article will address all of your inquiries on Group order and the way to enable this function for your Shopify stores for free
You'll grab:
What's Group order?

What's Group order used for?

What are the benefits of joining a group order?

DingDoong offers the group order function for all Shopify stores for free

How does DingDoong's group order function work?
Enjoy the article to empower your business now!
What's a group order?
There are several definitions of group order:

A group order is considered as "where everyone joins a shared cart using a link  Everyone in the order can see where their orders are with joint tracking, and orders are individually packaged for easy order distribution" by Uber Eats. 
According to Panerabread, Group ordering is "an enhancement that provides you (the host) with a sharable link, allowing your associates (invitees) to add their menu items to a single order that you'll pay for at checkout". 
Sharing the same idea, DoorDash agrees that "A group order allows multiple people to add their individual items into a collective order cart at the same time" and Cafe24 states that "Group buying is an online shopping practice where several buyers band together and purchase a specific product in bulk for lower prices per person"
To Deliver Kpop, an agency that offers buying & shipping Korean products services, Group order has been narrowed down to "a merch-buying activity where fans add their personal orders to a shared online cart or basket at the same time."

Although Group order is defined in different ways, they all have something in common.  It's simple to grasp group order meaning with four key points:
A group order is a buying activity where a group of people

join a shared order link

 that they can use to place orders together
Each person

adds their own orders

to a shared online cart 

from their own device at the same time

They also get delivered together to the same location at the same time. Orders are 

individually packaged and labeled

 for easy distribution
The owner pays

 for the full cart and splits the payment

 among the invitees later
What's a group order used for?
Group ordering can be used for different purposes:
Group shopping



There are numerous reasons why group shopping can be effective in some contexts. It's shopping for office supplies, family groceries, or niche items. People staying in a shared living space, digital spaces (like niche or hobby groups and forums) or a group reunion benefit greatly from the buying habit because they can order on their own and ensure they get exactly what they want (pick their favorites or leave their special customization for the store). The host also makes online shopping for the team easier by not having to chase anyone down for their order. Another reason why group shopping is useful is the store's total cart promotion, which encourages a higher cart total, so people may invite their friends to join for the purpose of the promotion.
Overseas shopping
Overseas shopping is incrementally popular, especially in developing countries such as Vietnam, Thailand, Indonesia, India, and even in developed countries as well, such as Korea. The sole purpose of a collective order for overseas goods is to save on shipping costs. International shipments are expensive, so why not put a big order together to make the shipping fee worthwhile? Better yet, this fee can also be split among people, making it even cheaper.
Food ordering
Group eating is a common practice in the workplace, at a party, or at a family or friend reunion. The real struggle begins when the host has to order for a group of people and food choices that do not match. Group ordering simplifies how people organize team meals by letting teammates select their own dishes made to their specific tastes. That saves his time and ensures their satisfaction. It also helps to save on delivery fees by combining many meals into a single delivery and reduce meal costs by utilizing online store discounts.
What are the benefits of joining a group order?
Making online shopping easier
To the host
Group ordering is the most convenient method to place an order online with the family or the whole office. The host never has to chase anyone down for their order ever again. It's also a simple way to enjoy a group meal with all friends without having to know what they want to eat.
The host has full control over the orders of the invitees. It's unnecessary for him to keep track of all people's orders and worry about missing someone who hasn't ordered yet. He also doesn't have to remember everyone's order decisions or rack his brain to divide money on the total bill. He can easily log in and see who ordered and who didn't. He can manage the number of people ordering as well as the amount each person spends on that shared cart.
Group ordering facilitates the host to satisfy even the pickiest. Put yourself in the shoes of the host. Do you remember when you'd order food for your team and several of them would complain? They either didn't like the food you provided, or it didn't meet their dietary needs. With group order, those problems become a thing of the past. By allowing everyone on your team to order their own individual meal, you ensure they get exactly what they want.
In addition, the host doesn't have to guess how much food to serve because the invitee orders the exact amount of food they need for each meal, which helps to cut food waste and reduce the risk of overspending.
To the invitees
Group ordering makes online shopping for a team easier than ever and saves a lot of time. People don't have to gather around a shared phone and choose their items in turn. Instead, everyone can customize their orders at the same time from their own phones.
Not only do invitees get to order their favorites, but they can also leave notes for stores regarding their orders. This means they can request special customizations (a photo book using their own photographs, layout, typeface, colors, phrases, and wording) or let the restaurant know of any of their dietary preferences (any allergies, or whether coriander, tomato,... is allowed or not).
Many people are not familiar with online shopping, payment, and shipping processes. Therefore, they choose to join a group order where the group order managers will do the difficult work of buying and shipping for them. All they need to do is to add their favorites to the shared cart and wait for the order to arrive.
Saving on fees
There are extra fees and charges for handling and delivery of individual items, people find the most efficient, less expensive way of purchasing, they thought of doing group orders. 
Firstly, everyone has to share the shipping fee, so it is cheaper compared to when people are purchasing an item alone. Since orders are placed together, people only pay one delivery fee instead of multiple fees for each individual order.
Secondly, group ordering can cut down on purchase price as the purchase is made in bulk. Bulk buying may also be subjected to discounts and promos depending on the online store. So, that's an additional reduced cost.
Thirdly, not to mention, there is no minimum spending required. Some online stores just support delivery for orders with a certain cart value. Therefore, buyers are unable to get delivered if they don't reach the minimum cart value or they have to pay a high fee for the service or delivery.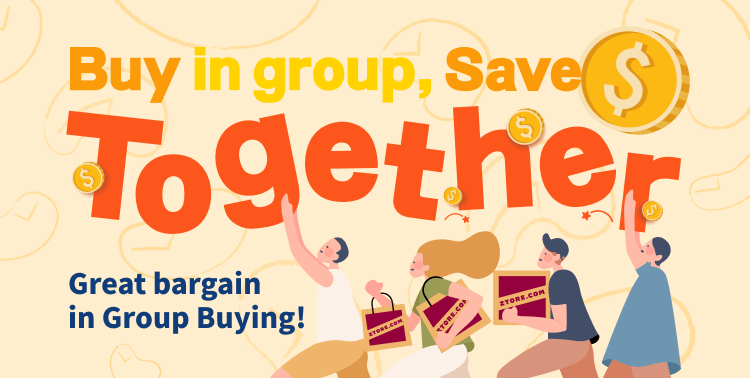 Bring people closer together
Group ordering facilitates connection among teammates, increases employee productivity, and builds a stronger team culture. Instead of placing individual orders, people can enjoy ordering and getting the same delivery with their team while still making their own selections and having their items individually grabbed and labeled.
Bring huge advantages to merchants
Group buying practice creates a mutually beneficial agreement for all parties involved. Businesses that let customers order in groups from their online store benefit immensely from this:
Encourage orders on their website
Allowing a group of people to place an order in a shared cart gives merchants access to more potential customers rather to having them all make orders separately. The invitees are likely to come back and make a purchase on their own or with another group. Therefore, online sellers may more and more broaden your potential customer base and enable many people to know about your brand and products.
As mentioned above, many people turn to group order as a way to cut their shipping or purchase costs. As a result, by offering custom discounts and promos, online sellers are driving more sales volume to their businesses. For example, if you offer a 20% discount on total cart value for orders over $70, people who order individually will fall short of the required amount, so they may invite their friends/ family/ colleagues to join a group order to be eligible to apply that promotion. Therefore it's clear that for the same marketing cost, merchants are earning more in a single transaction
Increase customer experience
With the amazing advantages already discussed, it's easy to see that group buying brings customers a great shopping experience: making shopping online easier, saving on fees, and facilitating connection among teammates. As a result, shoppers have no reason to abandon their carts, which helps merchants increase the conversion rate and lower the abandoned cart rate.
Reengage customers to connect with their friends, family and colleagues
People had to suffer a long time of terrible physical distance throughout the Covid 19 epidemic, so they desire community and connection with family, friends, and colleagues more than ever. Group buying is an effective way to bring people closer together. Many local businesses consider connecting people as one of their missions. For example, Sarah Barron, Chief Marketing Officer at Domino's stated that "As the nation recovers from the pandemic, we wanted to encourage families and friends to reconnect and enjoy a Domino's together! What better way to get people's attention than to yodel it from the rooftops"
Save on delivery costs and staff resources
Online sellers can save their time and staff resources by handling just one bulk order rather than several individual ones. They may reduce the number of deliveries and vehicles they must rent and avoid being overburdened if there aren't enough staff members to handle many deliveries.
 >>> Group order may be a necessary part of people's lives now, and more and more stores are finding a way to offer group buying experience for their customers. Dig more into it or you will miss out on a lot of things!
DingDoong offers the group order function for all Shopify stores for free
It is clear that group order brings great benefits to merchants, but the question raised is "How Shopify merchants can enable this function for their online stores?"
Although many third parties offer group order feature, there are some limitations. Merchants don't have their own playground, they must register as online booths on other apps/websites. They must follow certain rules and split commissions on each order placed for their agency.  All order processing and delivery are both under the control of a third party. Furthermore, group order feature is only available in a few categories. Most third-party providers only provide food ordering, leaving other businesses with little choice except to rack their brains for a solution.
Understanding the specific problems that most merchants are facing, DingDoong has brainstormed and tried to fill the gaps between the app and the users by releasing a Group order feature which allows merchants to offer their customers a group buying experience for free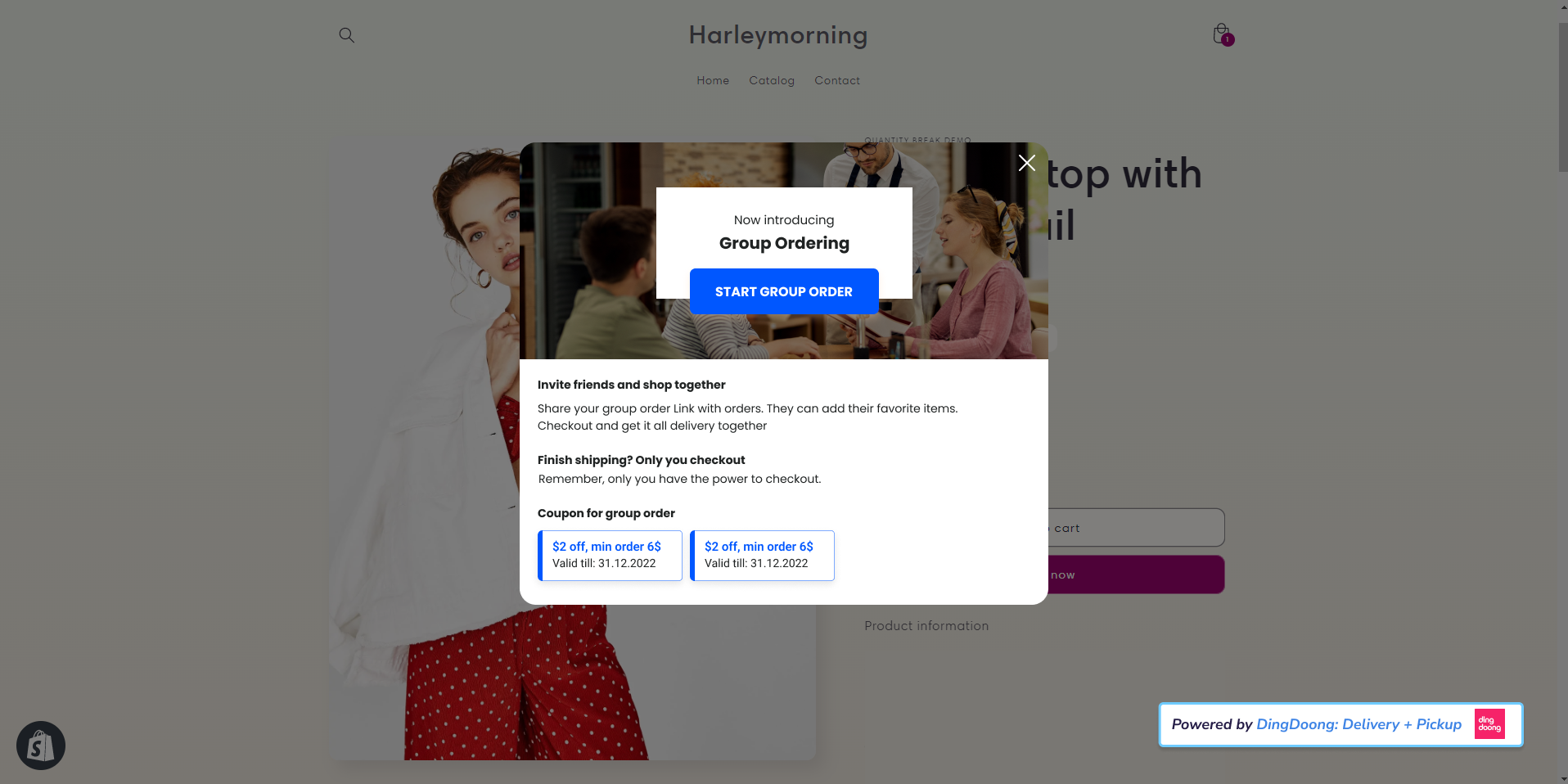 All businesses may apply group order function regardless of their category.  They have their own control over order processing, delivery and payment. They have their own playground and don't have to share commissions with anyone. A fully customizable widget with no loading speed effect, DingDoong ensures a rewarding & hassle-free experience for all of our customers
Aside from the amazing feature of Group Order, DingDoong is a complete and top-notch tool supporting all local businesses. Let's discover what DingDoong can help you out:
Setting different

date & time slots

for delivery/ pickup 
Check customers'

delivery eligibility

Limit the number of deliveries

per day or time slot

Manage orders

effectively, never miss a single order or shipment deadline
 >>>  Visit DingDoong on the Shopify store now to discover how amazing the app can level up your revenue!
How does DingDoong's group order function work?
To maintain its fast original loading speed, DingDoong app initially preserves the basic flow of group order function the same as others. However, we are all ears to our customers and tailor it accordingly and are about to release a new version of group order with advanced features down the road. Rest assured that we are keeping our products updated day by day to bring our beloved customers a worthwhile experience.  We sync all Shopify promos and discounts to the app so buyers can easily see all of merchants' deals & offers and pick the most suitable for them.
The flow is easy for merchants to set up and for customers to enjoy, check the chart below to get a deeper insight into it:

Create a group order

: A group order is created with a custom name, either at the beginning of shopping when a store is chosen or at check out. A link will be created to invite people. The one who created the group order is the owner of the cart. 

Sending invitations to friends

: the link is sent to the people whom the owner wishes to invite. Their friends enter their names and start shopping. 

Items are added to the cart

: Both the owner and their friends can add items to the cart. The owner can see who's adding what and at what price. 

Review the cart

: Everyone finishes their shopping and finalizes their decisions. The group's owner reviews the cart, decides which one they're willing to pay for, and edits the final cart. He is the only person who has control of all the invitees' orders

Pick delivery date & time

: The host consults his invitees to make the final decision on their preferred delivery date and time

Payment

: The owner of the group pays for everything in the cart, either theirs or their friends'. Their friends pay the owner their due personally. 

Shipment

: The cart is shipped to the owner's chosen address.
 >>> We are at the final step of launching the feature, keep following us to become the first to try it out!