E-Commerce personalization is now a must to enhance product discovery as well boost conversions and profits. It's proven that poorly personalized experiences could cost you more than $756 million. 
What is eCommerce Personalization and Why Does It Matter? 
You've probably heard a lot about it but do you understand what personalization is in the online retail industry? 
According to Shopify, this concept is how online store owners use unique consumers' data to display relevant content in a dynamic way. To tailor the experiences, merchants can depend on insights such as customer demographics, browsing history, previous purchases, devices, and so on.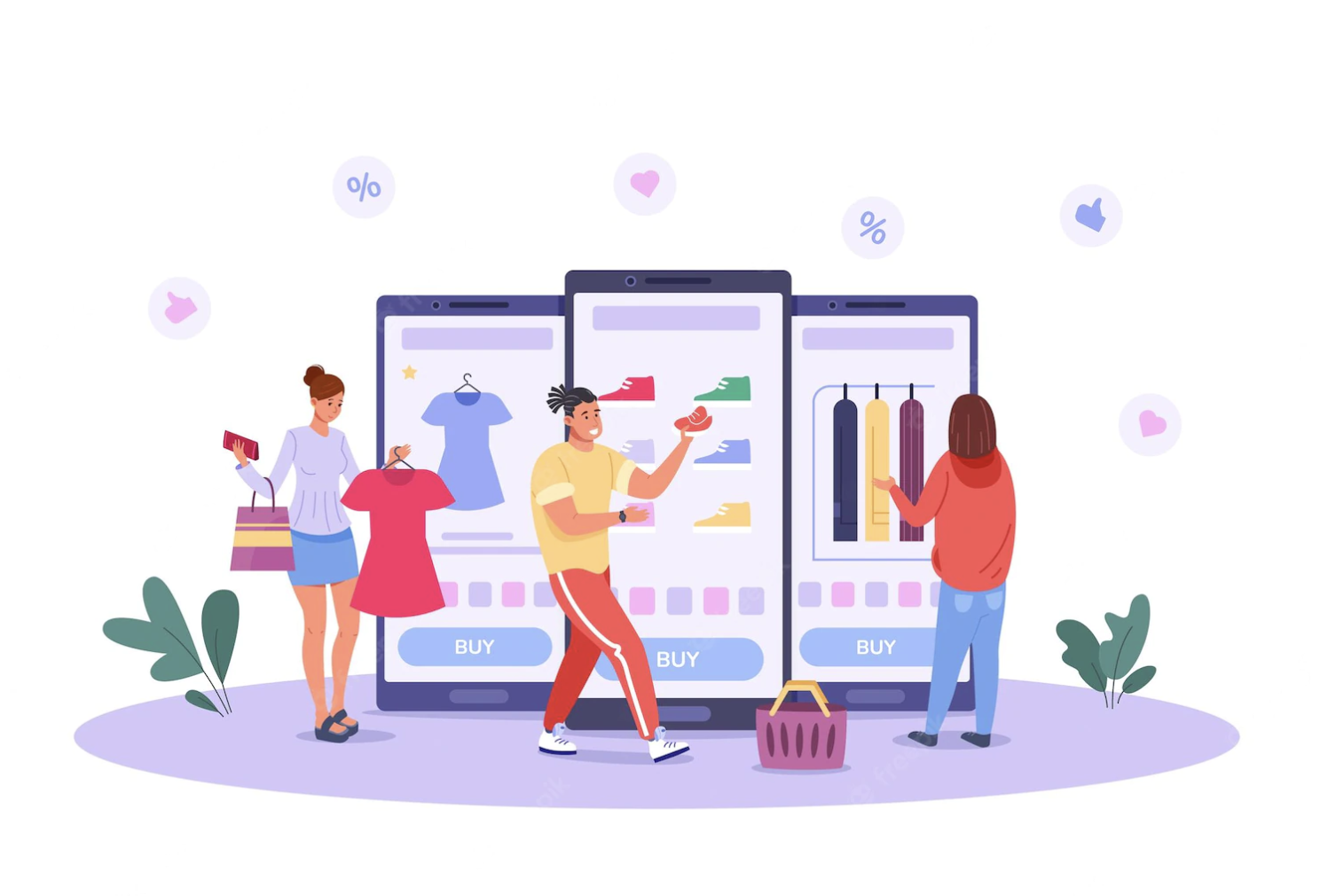 It isn't hard to see it in eCommerce stores nowadays, particularly top e-retailers like Amazon. Online personalization has changed our shopping behaviors and the way e-merchants do business. 
Winning shoppers can be easier thanks to personalization. The core value when providing tailored experiences is to eliminate friction during the shopping journey. Thus, e-shoppers will find their preferred products quickly (as your algorithm understands their search intent).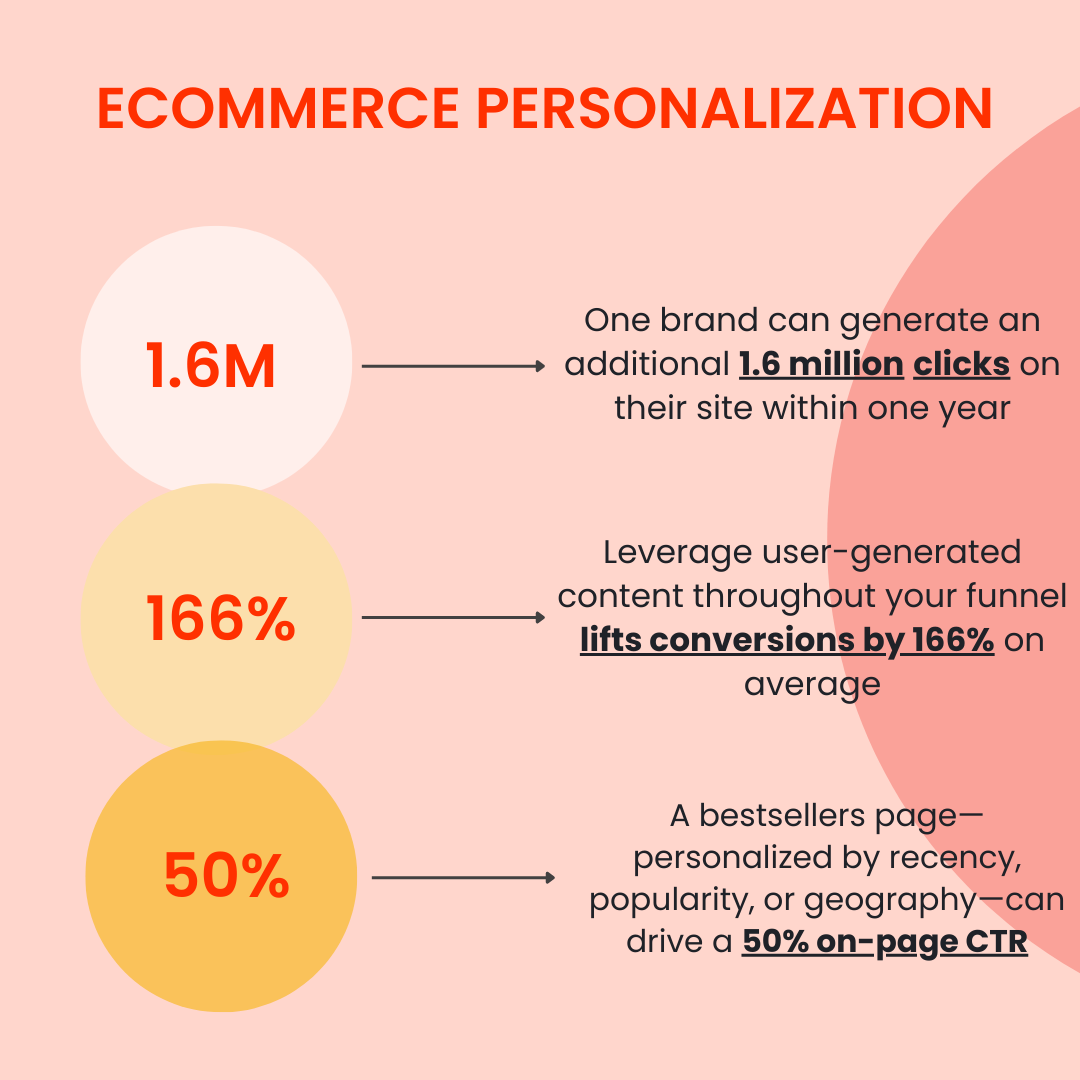 eCommerce personalization has been proven to sell more, retain customers, and increase lifetime value. (Source: Shopify)
Here are some real benefits of personalization to your business: 
Higher conversions: It helps business owners raise the purchase likelihood by cutting through the noise and locating what shoppers need effortlessly. 
Improve customer loyalty: The greatest loyalty programs give customized benefits as opposed to general redemption.
Strengthen customer experience: Customers won't be overwhelmed by excessive product options. With tailored recommendations, they'll easily filter content. 
Deeper understanding of target customers: First-party data offers invaluable insights into customers' preferences, shopping habits, and underlying motivations. These key takeaways help you refine your personalization tactics and choose which product lines to promote or drop.
Best Strategies for eCommerce Personalization + Examples
If you don't want to fall behind your competitors, eCommerce personalization is a must as it's so popular now. The majority of frequent shoppers claimed to buy products from a brand that offers personalized experiences, while 66% of customers feel discouraged from completing a purchase due to the lack of personalized content. 
Where to Start?
All strategies should start with data collection and how you create different segments to individualize experiences for each one in a convincing way. From your CRM and website analytics report, we suggest 2 essential groups that you'll need to track - first-time visitors and returning customers.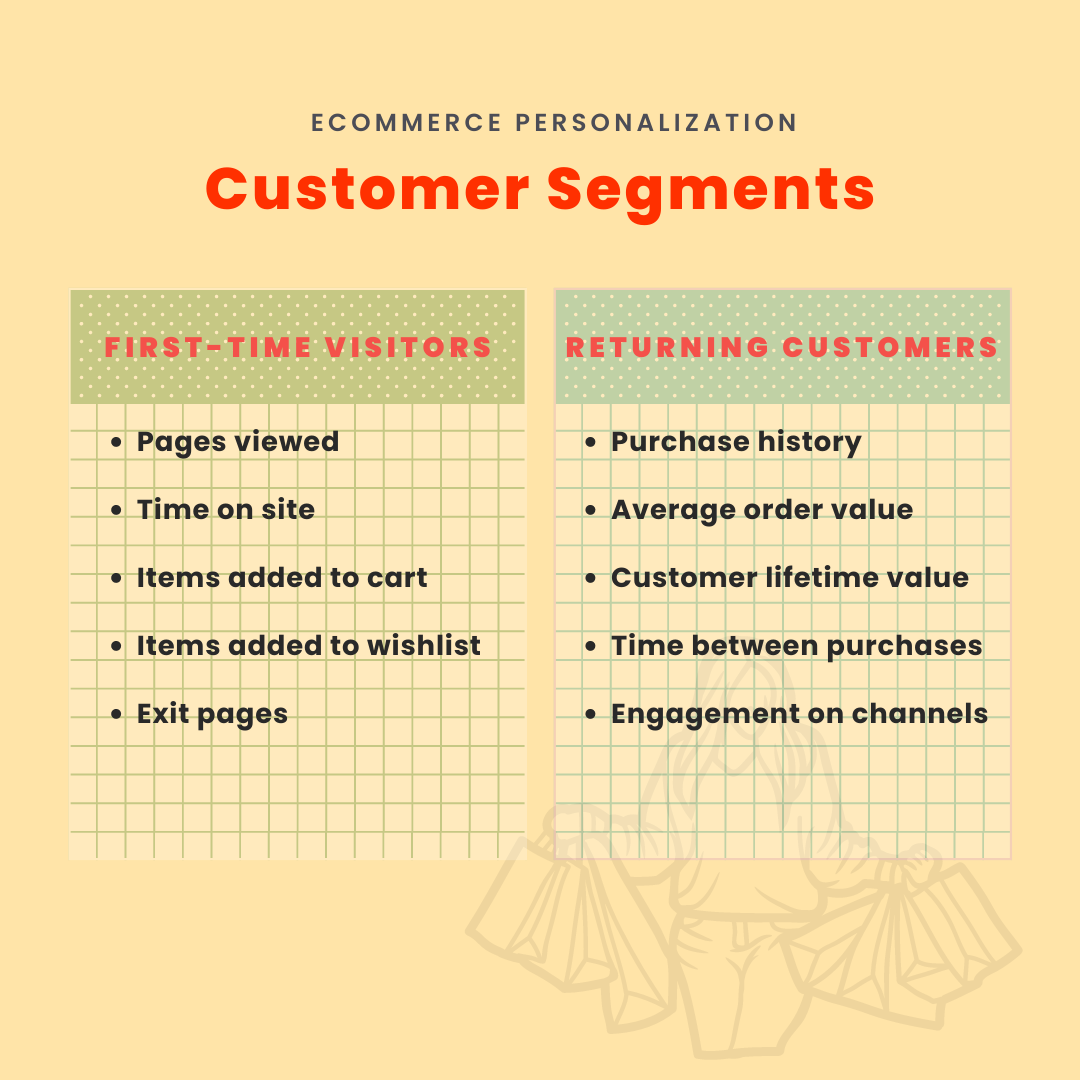 Some crucial insights that online merchants should be aware of
To decide on which metrics to track, you'd better look at your business goals and user personas.
When you have a clear picture of customers at each stage, it's time to build up your strategies and let your shoppers enjoy every moment with your brand. 
eCommerce Personalization Strategies + Examples
Now let's see some brilliant examples of how online brands put personalization into practice. 
Use Smart Product Page Recommendations
Product pages are an ideal place for you to convince hesitant customers to complete a purchase. 
It's true. However, these pages also give you a chance to boost AOVs by suggesting complementary items to the ones they're already obsessed with.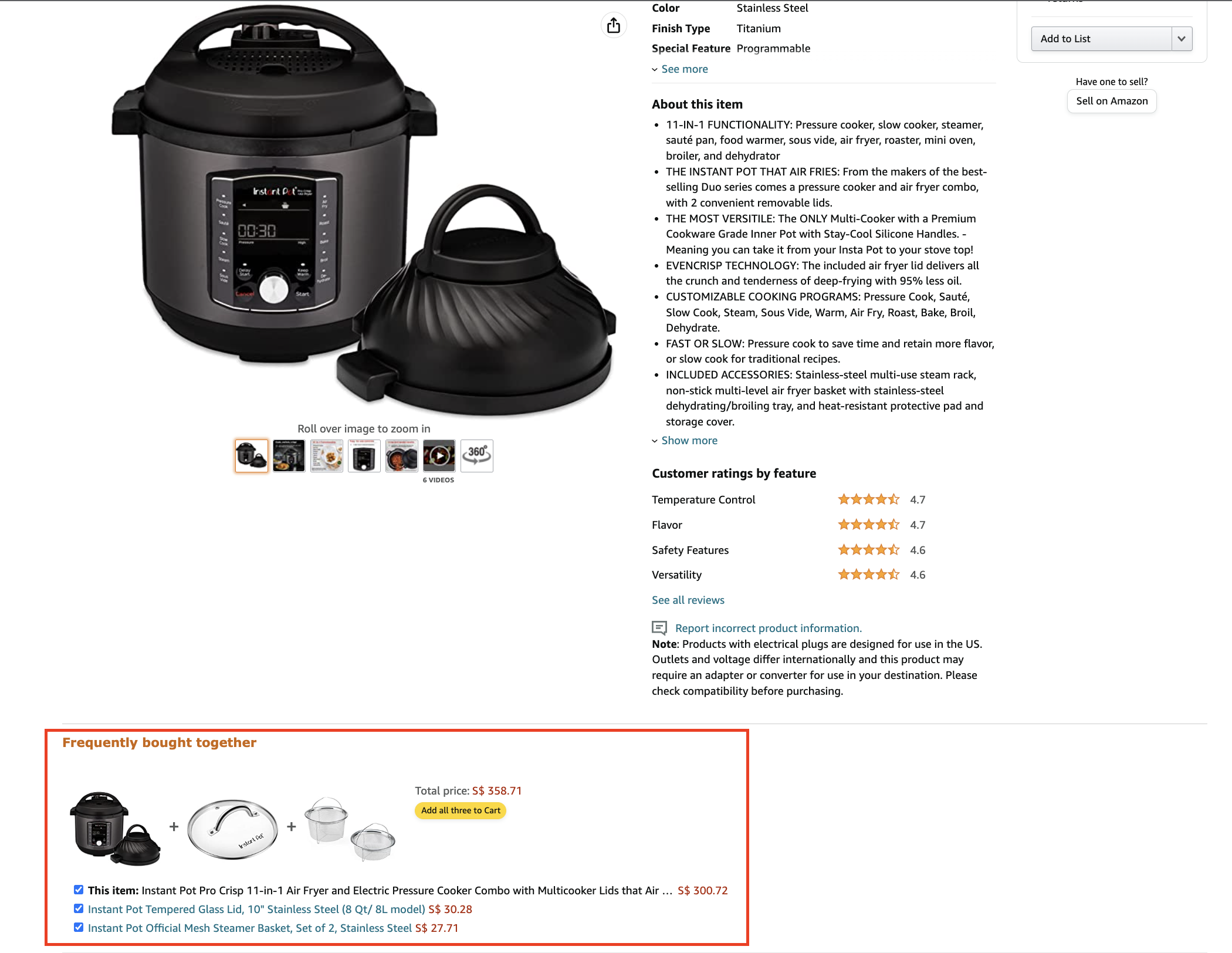 Amazon is always a prime example when it comes to recommendation engines. If you are on a "Cooker" product detail page, Amazon might recommend some pieces to buy like a glass lid or a steamer basket. (Source: Amazon)
The recommended products are based on the items that customers added to their shopping cart under Frequently Bought Together. This tried-and-true strategy works well when the store's inventory includes many diverse products with synergies and is best utilized on either product pages or on cart pages.
Aside from frequently bought together, you can use labels like buy it with, people also bought, combo products bought together, or often purchased together. 
Personalize Bestsellers to Get Them to Click
Shoppers, in general, are attracted to popular products, so don't miss out on the magic of your bestselling list. Store owners can creatively showcase these by adding different dimensions. For instance, you could show the hottest items over the last 1 hour, 24 hours, or 30 days.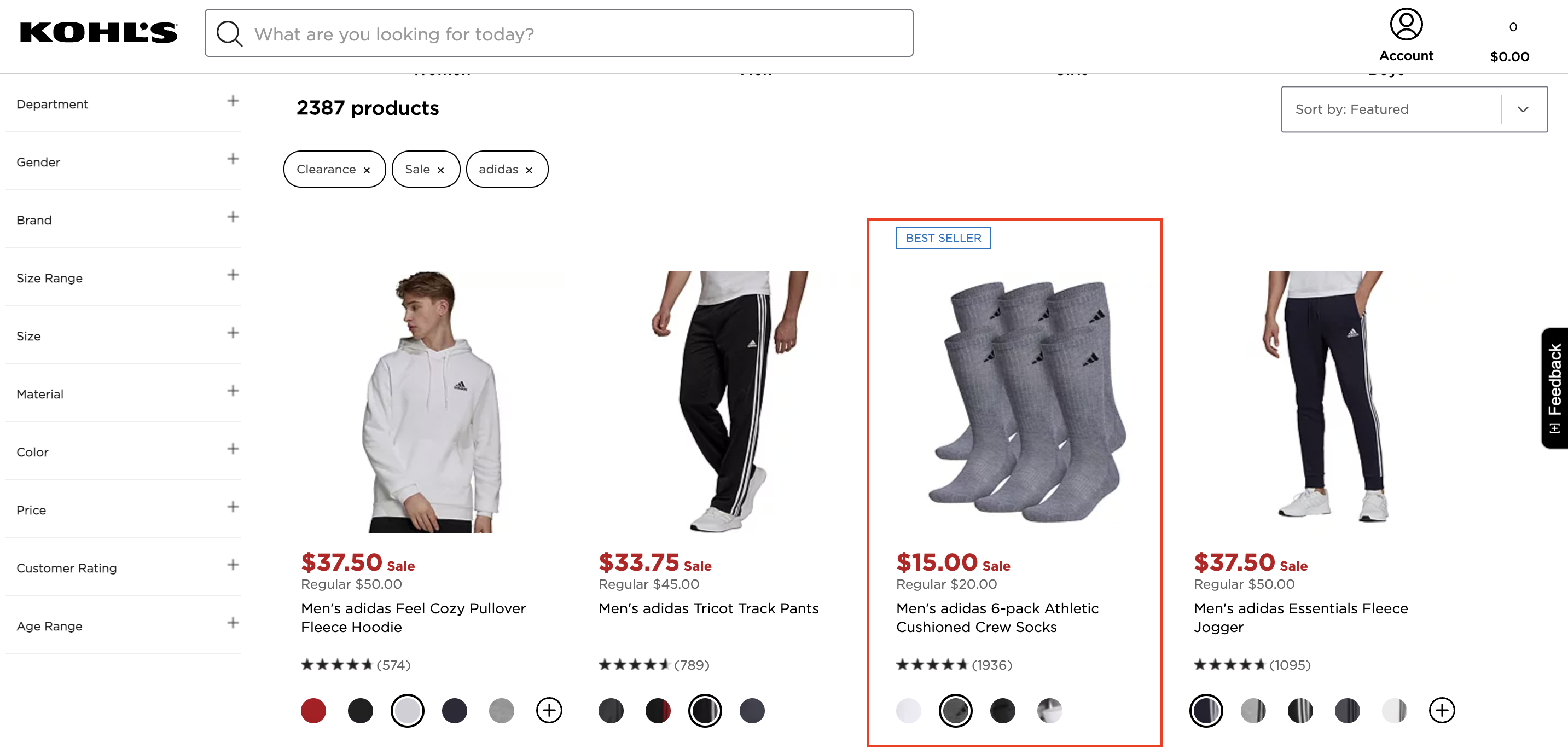 Bestsellers are always a hit with both first-time visitors and returning shoppers. Use it wisely as a way to increase brand discovery, and as a way to urge more purchases. (Source: Kohl's) 
Apart from total sales-based ranking, merchants should also think about other factors like geography or good reviews. For example, if you are selling clothes in multiple countries, show your products following the weather in individual locations. Shoppers in the UK won't buy the same things as the ones in Australia, right? 
Homepage and collection pages are ideal places to place this recommendation and capture customers' attention quickly. 
Recommend Interesting Options Based On Their Preferences 
One of the most effective approaches to keep shoppers engaged and staying with you is to recommend alternatives that have common features as the favorite ones. Thanks to this, you can give them hyper-relevant options that match their criteria, which will evoke their interest in buying those items.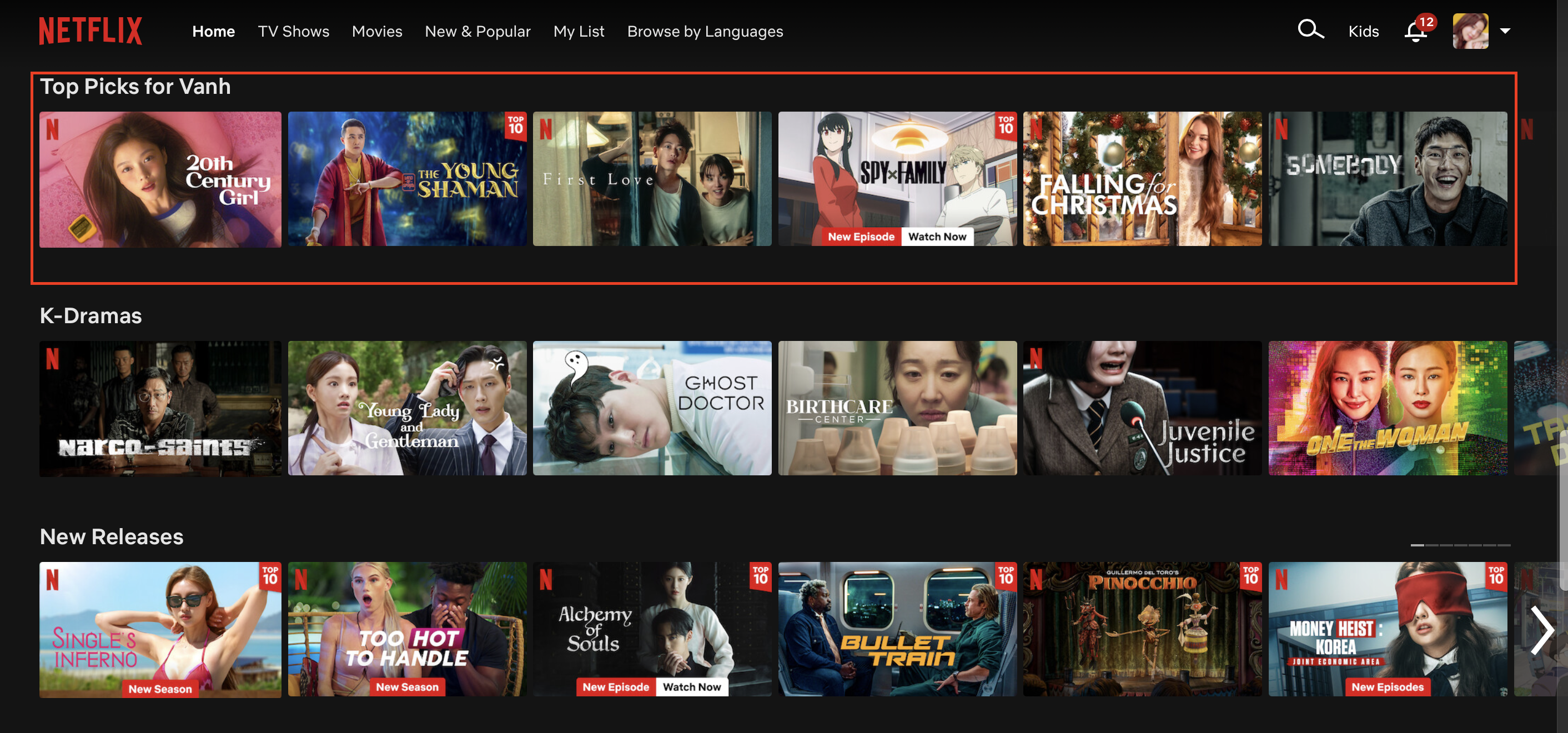 Personalization is a strategy used by Netflix to entice users to return and view fresh movies and television shows. (Source: Netflix) 
Let's take Netflix, the top streaming service, as an example here. Based on the tastes and viewing habits of its users, the team uses an algorithm to suggest movies and TV shows. If you're keen on teen comedies or K-dramas with strong female leads, they'll intelligently show potential ones under the name of 'Top Picks for You'. 
Tailored Search Queries for Better Product Exploration
We all know the importance of eCommerce search in the online retail industry. If you have reliable data about shoppers' browsing habits, purchase history, and popular search terms, go conduct personalization strategies in product searches.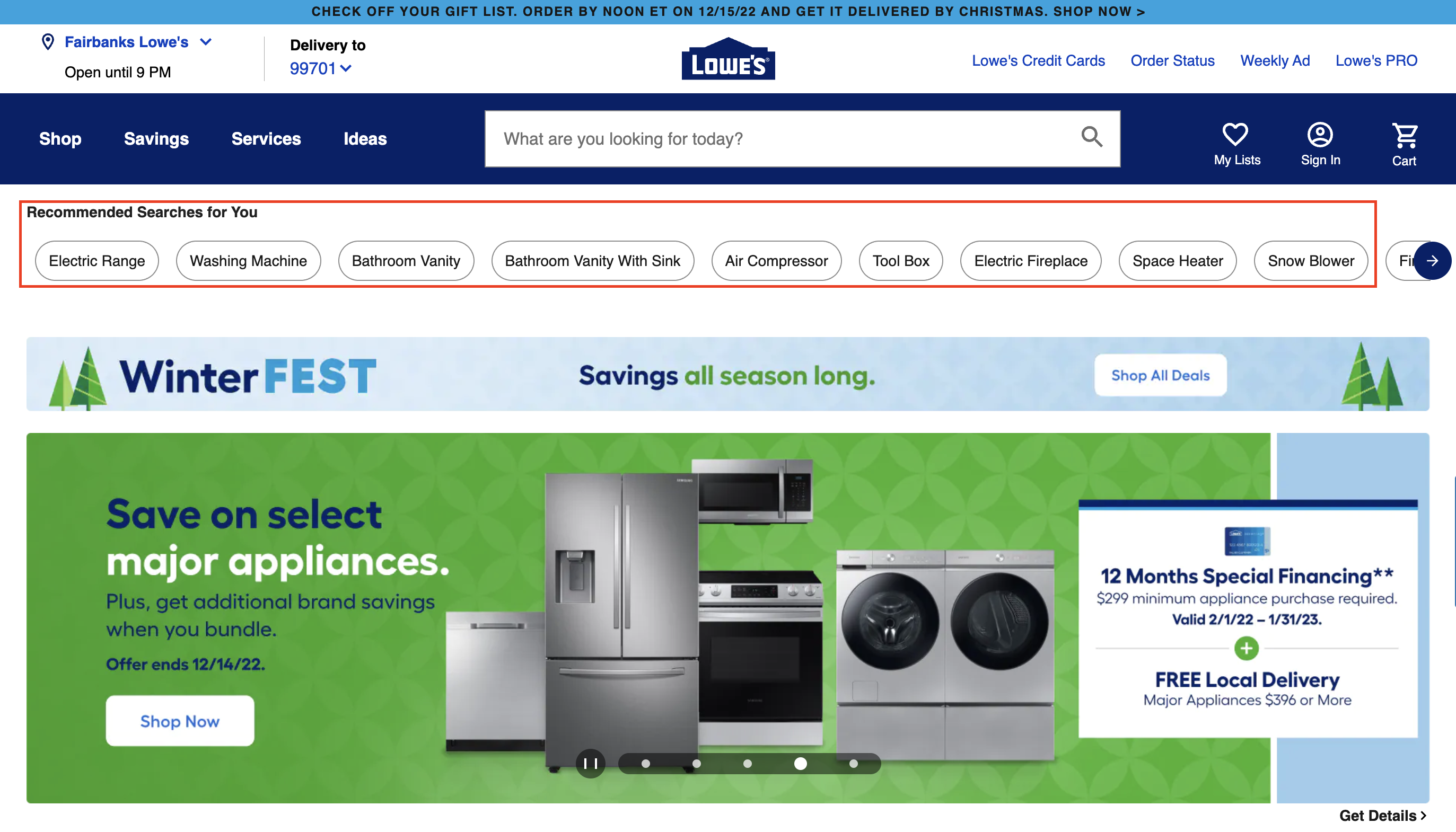 Recommended searches on the homepage make it easier for shoppers to locate the things they're most likely to buy during their purchasing experience. (Source: Lowe's) 
With personalized search queries like this, you'll bring shoppers a seamless experience while still speeding up their journey to make payments. 
To Conclude 
eCommerce personalization, in a nutshell, is a must-have strategy in your business plan. It allows you to leverage product discovery and customer engagement, drive more sales, and strengthen customer loyalty. Hence, it's your secret weapon to stay ahead in the fast-paced eCommerce market.